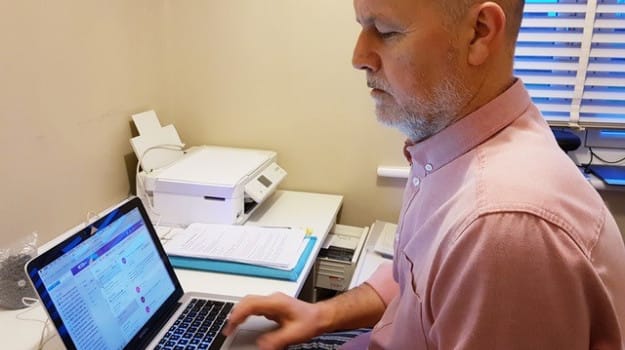 Barry Jacques joined Central Beds College after running a jewellery design and retail business for 20 years. An English graduate and published writer with a deep love of language, he coordinates a team of four other teachers of ESOL (English for speakers of other languages) 
Why and how did you become an ESOL teacher?
I wanted to return to academia and get involved in language again – I have an English degree from Brunel University and write short stories in my spare time – and this job came up. It was initially to teach creative writing but the demand was for functional English skills, and 95-98% of the students had English as a second language. My college was very receptive to people with new ideas to bring to their ESOL team and though I had not taught before, they liked my ideas and asked me to teach. I'd worked at company director level for many years so was happy to take on a challenge. It was a case of improvising. 
I realised I was delivering a course designed for native English speakers, not overseas students, so I set out to merge basic skills with English language learning. The college put me through an initial teacher training course and then part-time, concurrent two-year courses for both CELTA (teaching English as a second language) and PGCE qualifications. I started working out how to blend the teaching options from my CELTA course into functional skills so learners could transfer their language skills.
I love playing with language. I found English learners from outside western Europe did not understand or respond well to the region's accepted traditional approach to language teaching and learning. So how were we going to present the English language in the most beneficial way to our students, many originally from Asia and eastern Europe? Some had evolved their own type of English in their home countries – Urdu speakers were constantly adding "ing" to their verbs which, while acceptable in their own communities, would not pass an exam in England. 
What is your main role?
It's several rolled into one: teacher, student coordinator, planner, facilitator. I have to constantly work out what will benefit our adult learners most to meet their needs in English and what's available to help us do that.
What's the FE element you like most about the job?
Identifying their needs and then matching them to language learning. If they are not quite content, you have to figure out why. Maybe they don't have the education levels they want or their kids are asking questions and they feel inadequate as they are unable to answer them. it's also seeing real tangible progress in just a few months – people moving on from very few words and little communication to worrying about commas being in the right place!
What's a typical day?
I come in early to preplan lessons, go back over what I wrote last week, lay out the room, sort out and print off resources, and catch up with the others in our team. I keep all my resources themed around the workplace – the context suits my students as it's why many are developing their English. I'll have a warm-up activity for the three different learning levels at each of three tables –  one of them will be more difficult and time-consuming than the other. 
We also get east European students used to group working which is alien to them – they are used to only taking notes and always facing the front. We have to teach them how we are going to teach them! If you just begin teaching them with no introduction, they get confused and query why they are being asked to talk to the person next to them when they don't want to! Once you have explained why they understand and take part.
I give one three-hour lesson a day from Wednesday through to Saturday (workplace demands on migrant labour), and two lessons on Tuesday, ranging from 9-12pm, 10-1pm, 6-9pm and 1-4pm. I generally take Monday off when I work Saturdays.
Any specific tasks you did last week?
I prepared for exams, organising the exam room, and ensuring everyone was on the register and booked in to do the exams. I tried to calm everyone down. The anxiety people have before exams often gets them talking to someone going through the same thing. Suddenly you find the people who are very shy to speak are pouring their heart out to each other practising their English at an emotional level, so even the negative of the pressure can be a positive for language development.
What's the most challenging aspect of your role?
Trying to instil the idea of British values into the learning. Often learners are very self-focused and tend to need to be quite selfish about what their needs are as they have to push themselves on a bit. You'll have 12-13 adults all looking for personal attention. Spend three minutes with one person and you should not expect to see them again for the next 40 minutes to be fair to the others, but learners rarely appreciate this calculation.
Any achievements you are particularly proud of?
Finding the best use for our teaching resources. I noticed that most CELTA/TEFL (Teaching English as a Foreign Language) students on my PGCE course were going abroad raw, full of nervousness and trepidation. We also had a retention problem on our ESOL courses – adult learners getting scared of exams, doubting their abilities, and needing more attention than just one tutor in class could give. So I invited groups of five CELTA students to join our functional skills/ESOL classes as volunteers to get classroom experience and at the same time give the second language students the added attention they needed! We now have a 97% retention rate – it was a gamechanger for us and we now cater for the full range of ESOL learning levels.
What personal qualities and skills do you need for the job?
You need lots of patience and perseverance, plus a sense of humour – there's a lot of frustration in language learning for both teacher and student. Always stay positive and supportive with language learners as they can develop at very different speeds.
Read more about how to become an ESOL teacher.
Ditto background/training/qualifications?
Love for language is essential. Then I'd recommend the CELTA teaching qualification – the course really helped me as it gave me techniques to identify why Asian and eastern European learners were making particular mistakes. For instance, there is no definite article in Ukrainian and Polish. A PGCE is also worth taking.
What spurs you on to work each day?
Seeing a tangible change in people's language ability over time that brings them a better life.
Are you passionate about helping people and spreading knowledge? Maybe a career as an ESOL teacher could be the perfect fit for you. Discover an array of ESOL teacher vacancies on our website and apply today!