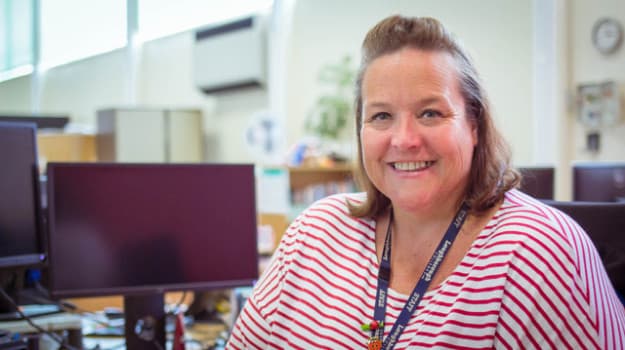 Emma Kilby-Brooks joined Loughborough College as an HR administrator in 2006, after working in the UK travel industry, the US and Germany, and then in retail HR. She took on her adviser role as number two in the college's HR department in 2016.
Why and how did you become an HR adviser?
After my daughter was born, I found an administrator post in retail that happened to be in HR. I moved up to a training coordinator role and while studying part-time at Loughborough College for certificates in personnel practice and training practice, the college suggested I apply for a vacancy in its own HR department – and I got the job. 
What is your main role?
As an HR adviser, I deal with issues such as health and wellbeing, grievances, disciplinaries, recruitment and absence reporting. Among a huge variety of tasks, for instance, I spend considerable time supporting officers handling investigations and other employee relations matters. The experience from my initial post – which mainly involved administration work, organising interviews, answering basic queries about employment contracts, etc – has provided an invaluable base for me. 
I also take on specific projects. I'm part of the college working group implementing the GDPR (General Data Protection Regulations), and I'm always working across the college proactively promoting health and wellbeing (H&W) among our staff. Working closely with our two unions, we have surveyed staff about what causes stress and run focus groups at all staff levels. Now, based on staff suggestions, the college closes at 6pm on Monday and Friday each week to prevent employees staying on late; they are also urged not to monitor emails 24/7 or email anyone at 10pm! 
I have helped introduce relaxation and mindfulness classes, health and wellbeing days, and free treatment for staff in our on-site spa and salon. Next year, we'll be looking at financial health and wellbeing for staff and introducing mental health 'first aiders'. Of course, that's not forgetting recruitment, a key area; I line-manage two employees working full-time on recruitment and new starters.
What do you like most about working in FE?
It's making a difference to students' lives – get the right staff in place with the right qualifications and skills, and the effects can be amazing. There's also variety. We deal with so many different levels of staff. We also have links with seven different universities, specialising in areas such as sport, teacher training and space engineering. There's so much going on.
What's a typical day?
I get stopped on my way in before I've even taken my coat off with queries people had not been able to address the previous day. I have to sift through a large volume of email, and attend numerous meetings on issues such as occupational health, absence, disciplinaries, GDPR, occupational health and recruitment – they all come under my remit. We are really busy but the variety makes it exciting – you never know what each day will bring. We mainly deal with staff issues, although we sometimes get involved in cross-college activities such as helping with exam invigilation in maths and English GCSEs and the main college enrolment. And there is also direct involvement with students such as running mock interview days and employability training, from which we get some very positive student feedback.
Any specific tasks you did last week?
I held return-to-work meetings with people who had been off on long-term absence, I attended an investigation meeting to discuss a capability training issue, and I helped plan for our next health and wellbeing day, including the external support that we will bring in.
Any surprises in your role?
The amount of work required to prepare the college for GDPR. We are much further ahead than many other colleges and we're proud of what we've achieved so far.
What's the most challenging aspect of your role?
Meeting the huge demands of a very busy HR department under the tight budgetary constraints facing FE. Everything has to be scrutinised and costed out.  
Any achievement you are particularly proud of?
I completed a postgraduate diploma in human resource management at De Montfort University while working full-time at the college. It's a good qualification to have. And since I've worked here, I've also seen us change from being an administrative personnel team dealing only with contracts, money and transactional HR issues into a strategy-driven HR team with a place on the executive board. To be part of that transformation has been a real learning journey. We are now much more proactive and involved in budgets and people, and we are able to play a key role in driving the college forward. 
What personal qualities and skills do you need?
Be organised and adaptable but also professional and approachable at all times (if someone comes to you in tears, they really need your time). You need mediation skills on a par with UN peace-keepers! Be honest and good at communicating with unions, employees and stake-holders as this goes a long way towards creating close and lasting relationships. You are a team rather than them and us. It's a good place to work with great staff – and that is an important factor in keeping employees with the organisation.
Ditto background/training/qualifications?
Almost everyone at my level and above has a postgraduate diploma in human resource management, a degree or a Masters. I'm currently also doing a ILM (Institute of Leadership and Management) Level 5 in Coaching and Mentoring because you naturally do quite a lot of that in an HR adviser role. 
A key job interview question?
What major challenges do you think our HR team will face in the next two years that will have real impact? The answer is normally a whole range of things – if you read the news, you should have a good answer.
What spurs you on to work each day?
The sheer variety of the job. You never know what's round the corner. It's also knowing that you are helping skilled staff do what they are best at – transforming so many young people's lives.
Does a career in HR sound like it could be the right fit for you? If that is the case, check out our various HR & training jobs from adviser to assistant to manager positons. Apply now and kickstart your career today!