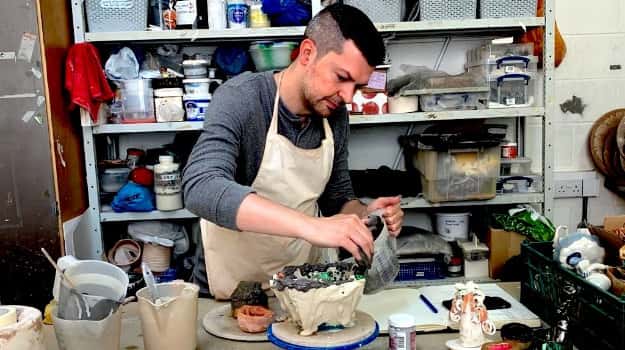 At any one time in the UK, one in four people are suffering from mental ill-health, and there would be many more if FE colleges did not play such a key healing role in turning lives around. Here is Keith Clapson's story.
Keith was severely bullied at school. But rather than try to fix the problem, the education authority placed him for a year in a special school for bullied children. He progressed well there but on his return to a mainstream school, the bullying started again. 
Life became exceptionally hard. "I was over-sensitive without realising I had any mental health issues. And in my early teens I began to realise I was gay without really understanding it," says Keith. "Back then teachers were limited under section 28 legislation from talking about sexual orientation in a positive way. I also wanted to learn but the rest of the class wanted to go wild. I was labelled a swot and got picked on for that - it wasn't physical bullying  but I found it mental torture - so much so that I sat no school exams." 
Life after school was a relief
Life after school was a relief - he began doing voluntary work in a primary school office and with a good reference joined a small law firm as an office junior, inputting time-sheets on the company's first computer. "Thirteen years later with no qualifications, I ended up managing the accounts department!"
Keith spent the next few years in the finance department of a massive global City law firm, where his mental health issues - he'd been diagnosed with obsessive-compulsive disorder (OCD) - came to a head. "In 2012 I just crashed, I could not cope anymore and was signed off by my doctor. I got weekly treatment but it didn't help. An 18-year relationship failed as my boyfriend could not cope any more. I got evicted from my flat, ending up signed off work, single and back on my parents' sofa. My OCD grew steadily worse as I was at home and did not have to challenge myself or do anything. I became a recluse. 
"The OCD issues were all related to a fear of HIV and contamination during a time when a lot of gay guys were brought up in the early 90s at a time when HIV was seen as a death sentence. It became a huge paranoia. 
'I thought I could catch HIV from a door handle'
"My condition developed from an irrational fear that I could develop HIV from touching a door handle - so I had gone from someone going out clubbing regularly, who was active in supporting others' wellbeing and quite vocal about HIV being nothing to be scared about to someone who simply did not understand. 
"I continued to have on/off weekly treatment until I saw a Channel 4 documentary about Bethlem Royal hospital in Maudsley, Kent, which ran the country's only residential anxiety disorder unit for people with severe OCD. 
Keith had to fail cognitive behavioural therapy three more times before he was judged to be in the most severe OCD category - and deemed incapable of functioning as a normal human being - to get assessed. Eventually, after 19 years with OCD, he was admitted to Bethlem for four months in February 2017. 
'At night I was too scared to use the toilet'
His situation was dire. Before admission, he had not left his parents' flat on his own for five or six years and could not stay in or go out alone. "My parents were caring for me like a child; at night I was too scared to use the toilet on my own without fear of intrusive thoughts about being attacked and catching HIV - there was no one up to accompany me."
For Keith just getting to the hospital door had been terrifying enough. But Bethlem is unlike any normal hospital - Keith was placed in an 18-bed unit split into two small houses. "You have your own room, staff go home each night - which initially terrified me as I had not been on my own for years - but the residents support each other."
Keith started receiving daily cognitive behavioural therapy and anti-OCD exposure which involved going out, using public transport and undertaking physical tasks backed up by an occupational therapist. He thrived during his stay and the turning point came when he started using the full range of practical hospital therapy studios, dedicated to pottery, art, woodwork, textiles and other arts and crafts. 
'It was a relief to go to the Bethlem art studios'
"Part of the Bethlem therapy is to set you up to do new things and live life once you have left Bethlem. I really flourished in the hospital's art studios - it was a relief to go there. They were open to all residents so you met other people who would probably have frightened the life out of you if you had met them on the street. It helped me accept and deal with things more." 
The four-month stay worked. When he left, Keith's mental health 'score' had dropped from 38 out of a maximum 40 to a sub-clinical 9 and then 6 three months later. 
"At the end of my stay I was essentially cured - I could live a life free of OCD - but you then had to constantly challenge yourself not to let OCD back in." 
And the vital work to prevent Keith suffering any relapse is where City Lit has played a key role. His Bethlem therapists encouraged him to pursue his burgeoning interest in art by signing up to a foundation course at the college.
'I did get a knock-back"
"I got a knock-back at the interview when the City Lit tutors said you have had an amazing journey but taking on a foundation diploma course a few months after leaving the hospital will be too much to deal with. They recommended I tried a three-month evening course once a week from September 2017." 
At end of the course, he reapplied for the 15-month foundation course in art and design and his future tutor Ian Tucknott told him, based on the work he had done during the previous three months, that it was a mere formality to offer a place! 
"Ian later told me he had still had concerns but he'd seen my enthusiasm about everything so was willing to take the risk. So I started in January 2018 and it proved to be a pivotal moment. I made friends, and learnt an incredible amount about art and learning that I'd never known before. 
Identified as dyslexia at age 43
"I wrote my first essays through City Lit's support dept - they'd identified that at the age of 43 I was dyslexic which had been not picked up before. My dyslexia was to do with processing info, and it explained so many difficulties I had faced. I found that visually receiving things were much easier than writing. I was encouraged to photo everything as I went along, documenting it all visually rather than writing notes." 
I learnt that if I could take in information simply by watching and learning it meant something to me. This exemplified the amazing support I had from my City Lit tutors. Once I'd been diagnosed as dyslexic, I attended a weekly support class with two ladies who advised me on writing essays and typing down how I verbally related my thoughts.
By the end of the course, Keith had chosen ceramics as the medium for his end-of-course show on touch and feel that he displayed under the label 'please touch'. "I wanted as many show guests to touch my exhibits as possible as it was telling my story through ceramics. I had to take them all back home so having them 'contaminated' by everyone was in itself another test of my ability to beat my old phobia about touch and HIV."
Keith passed the course with merit (four distinctions and three merits) and has now been accepted for a much higher graded two-year diploma programme in ceramics starting this September.
'If I remained so self-deprecating, no one would be interested in my art'
"Ian, my tutor, has supported me since my first interview at City Lit,' says Keith. "He's mentored me and been my personal tutor throughout the course. He's taught me so much about art, about writing and most importantly that I should just be myself and no one else. He said he knew I didn't want to show off but that if I remained so self-deprecating no one would be interested in my art." 
Ceramics tutor Robert Cooper is another key supporter Keith singles out. "He's developed me as an artist and made me realise it's ok to work as I do. He's got me doing everything in the studio. Without Robert's encouragement, I would not have applied for a two-year diploma. He put me forward for it."
And the role of Keith's fellow students? "For the first time, I was put in a room with a whole group of people who genuinely chose to want to meet me after class, and invite me to birthdays and parties. They taught me finally that I am actually ok as a person."
Interview by Richard Doughty
Has this story resonated you in any way?
Do you like helping other people?
Do you find yourself regularly checking up on other people's well-being? 
If so, a safeguarding role in an FE college could be a perfect fit for you!
Click here to browse the available safeguarding and child protection roles on AoC jobs.